How to apply
We are eager to attract more American students to study at Chalmers and we have been relying on support of members like you to help make this happen. Information on the scholarship program, eligibility, the selection process and key dates, can be found at the Chalmers University fees and scholarship page. 
How to donate
We welcome small as well as large donations, as any contribution makes a difference. As a huge thank you and appreciation for their generosity, we offer several benefits to our supporters.  Donate now
Our donation ladder outlines these benefits for each supporter category.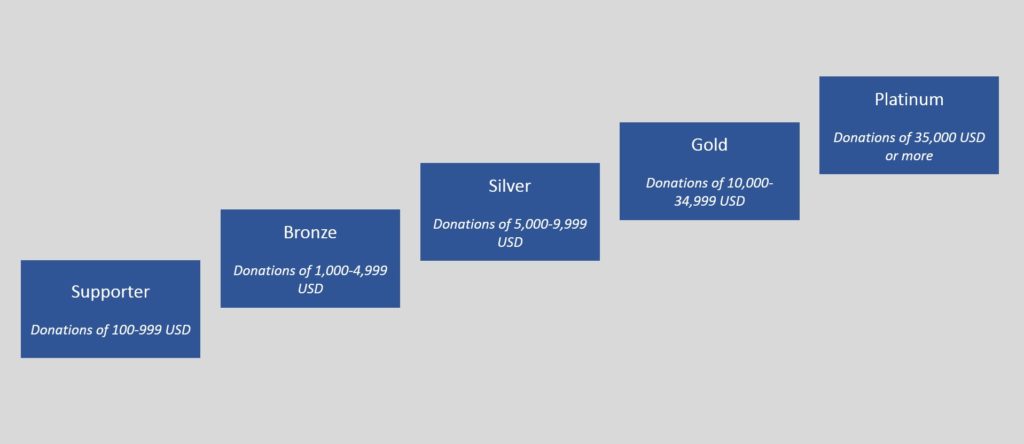 An individual who donates a full scholarship will be named "platinum" donor on the donor wall. It is also possible to start a local initiative and get a group of people together to raise funds for a full scholarship.
There is a great deal of flexibility when it comes to funding scholarships and we are open to working with donors/donor groups on a case-to-case basis to find a model that is beneficial to all parties.
Scholarships are awarded at a "U.S. Friends of Chalmers Scholarship award ceremony" at a location in the U.S. in May each year. The President, or other representative, of Chalmers as well as the Chairman of CAAI will be present at the ceremony – and all donors are encouraged to attend. 
The summary of benefits for each donor category is as follows: 
SUPPORTER
Donations of USD 100 – 999
Invited to all events, including scholarship award ceremony.
Listed on U.S. Friends web site
Listed on scholarship diploma
BRONZE
Donations of USD 1.000 – 4.999
Named as Bronze donor at the scholarship award ceremony
Presented on CAAI Donor Wall
Invited to all events, including scholarship award ceremony.
Listed on attachment to scholarship diploma
SILVER
Donations of USD 5.000 – 9.999
Named as Silver donor at the scholarship award ceremony
Dinner with Chalmers representatives
Presented on CAAI Donor Wall
Invited to all events, including scholarship award ceremony
Listed on scholarship diploma
GOLD
Donations of USD 10.000 – 34.999
Named as Gold donor at the scholarship award ceremony
Dinner with Chalmers President and CEO
Presented on CAAI Donor Wall
Invited to all events, including scholarship award ceremony
Listed on scholarship diploma
PLATINUM
Donations of USD 35.000 (one full scholarship) and upwards
Named Scholarship (if donor so wishes)
Hand over scholarship to awardee together with Chalmers' President at an exclusive ceremony
Dinner with Chalmers President and CEO
Presented on CAAI Donor Wall
Invited to all events, including scholarship award ceremony